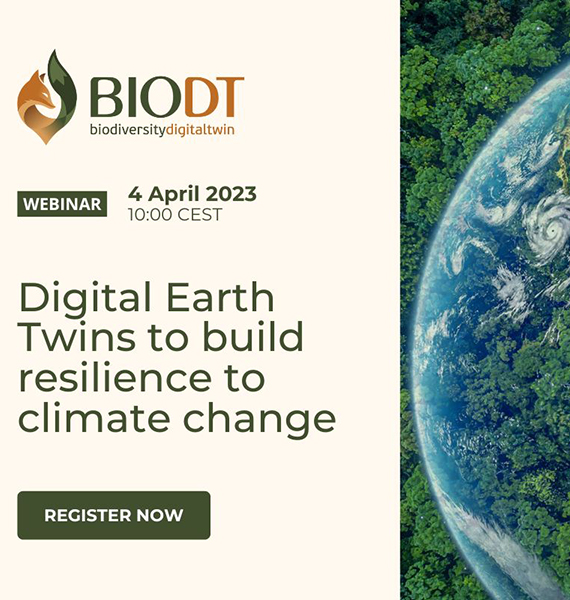 Online, 4 April 2023.
BioDT: a Digital Twin prototype to help protect and restore biodiversity
Understanding the forces shaping biodiversity is needed for rational management of natural resources and also to meet the EU Biodiversity Strategy for 2030 to restore biodiversity in Europe. In particular, researchers need to be able to better predict global biodiversity dynamics and how species interact with their environment and with each other. This can be an extremely difficult task because the processes underlying biodiversity dynamics are complex. Innovative ways to combine data, models and interaction processes are required to predict these dynamics and offer solutions that promote a sustainable management of Earth's biodiversity and its ecosystems.
For this reason, the BioDT consortium aims to push the current boundaries of predictive understanding of biodiversity dynamics by developing a Biodiversity Digital Twin (BioDT) providing advanced modelling, simulation and prediction capabilities.
BioDT, DestinE and Digital Earth Twins: a joint webinar to showcase opportunities, challenges and future trends in virtual twins
The webinar "Digital Earth Twins to build resilience to climate change" aims to showcase best practices, challenges and emerging patterns in developing digital twins. The involved speakers are experts and developers in the field and are going to highlight, during a one-hour event, the main aspects to be taken into account while developing highly-complex technology systems, such as BioDT, Destination Earthand ClimateDT.
The event includes also an interactive session where the participants can get in contact with the speakers and ask direct questions.
Registration for the webinar is mandatory, but free.
Draft Agenda (all times CEST)
10:00 – Welcome & Introduction
10:05 – Digital Earth Twins: a roadmap to build resilience to climate change – Christian Kirchsteiger, European Commission DG Connect
10:10 – Introduction of the Biodiversity Digital Twin: objectives, scope, expected results – Jesse Harrison, CSC & BioDT project manager
10:20 – Introduction of the digital earth twins and the DestinE work: objectives, scope, expected results – Thomas Geenen, EMCWF & DestinE
10:25 – BioDT and DestinE: collaboration to strengthen the development of Digital Earth Twins – Jeroen Broekhuijsen, TNO
10:30 – Test your knowledge (interactive session)
10:35 – Panel discussion on the role played by digital twins on green deal & EU digital strategy

Jenni Kontkanen, CSC & Climate DT
Thomas Geenen, EMCWF & DestinE
Marina Tonani, Mercator Ocean & EDITO

11:00 – Conclusion