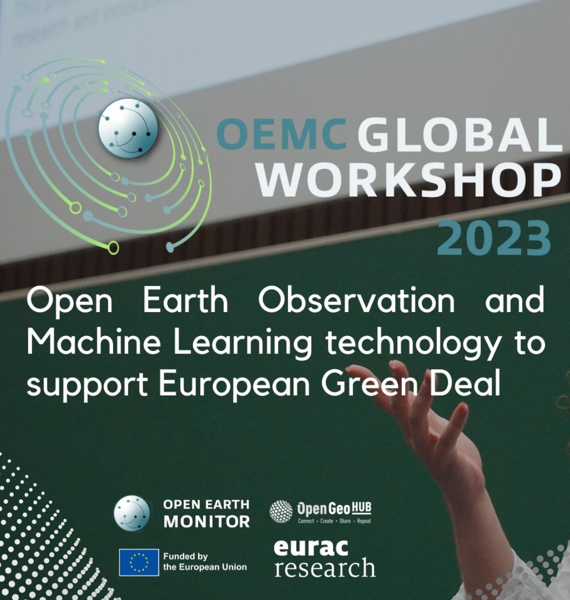 Bolzano, Italy, 4–8 September 2023.
Organised by OpenGeoHub foundation in collaboration with Eurac Research, the Open-Earth-Monitor Global Workshop 2023: Connecting open EO solutions to boost European and global goals, will bring together European and global actors in the field of open-source Earth Observation applications in policy, business, research and for society.
This international event will connect project partners, including data and environmental researchers, public and private sector developers, EU decision- and policymakers, representatives from global institutions, the business sector and civil society to discuss and test solutions to the greatest challenges in geospatial applications.

Through five days featuring international keynote speakers, scientific presentations, discussions, and demonstrative workshops, the participants of the OEMC Global Workshop 2023 will explore valuable opportunities and establish tangible collaborations to improve geospatial research and application products in open-source.
Open Earth Observation and Machine Learning technology to support the European Green Deal
Earth Observations and geospatial data —and their derived information— play crucial roles in monitoring regional, national and global environmental and climate targets proposed by the ambitious European Green Deal. Practitioners and decision-makers are therefore in need of accessible, science-based tools for timely and informed decisions as well as for long-term planning, progress tracking and transparent evaluation processes. 

Open-Earth-Monitor project's main aim is to directly support the implementation of the European Green Deal, and the European Digital Transition, the EuroGEO (Europe's part of the Group on Earth Observations) and overall the United Nations Sustainable Development Goals (SDGs). How? By producing and integrating a range of open-source, data-based and user-friendly tools to monitor European and global environmental trends, and for ecosystem services accounting in constant collaboration with user communities.